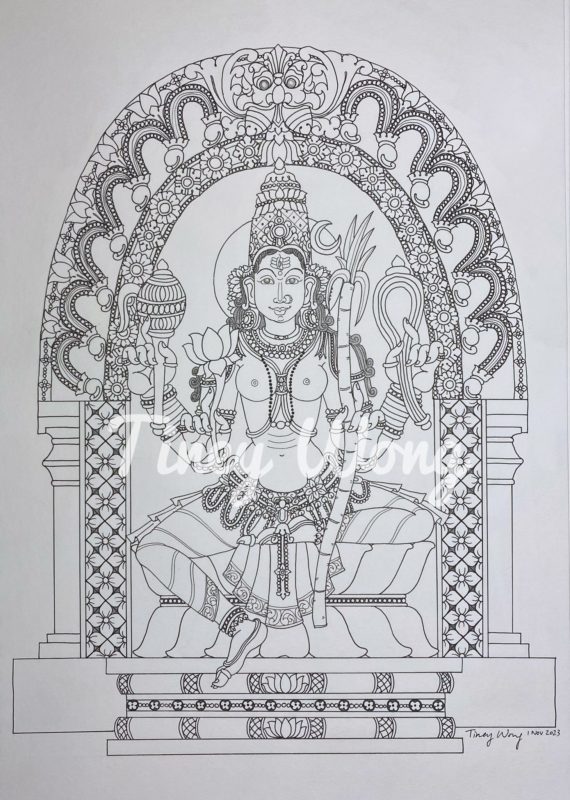 A3, Pen
This is my humble attempt to draw Devi Lalita Tripura Sundari.
This is the final composition for @maha_art_95 6-month Shilpashastra beginner course. Teacher has taught us the basic anatomy and iconography of the deity. Students are encouraged to decorate the deity and compose the drawing according to our own preference. I took this opportunity to experiment what I have learned and added some personal touches in this composition.
Also, I have read through the Lalita Sahasra Namam (translated by P. R. Ramachander) and took some reference from it, along with some sculptures I have found online. Here are some reference for my personal touches that I would like to share with you:
30 Om Kamesha Baddha Mangalya Sutra Shobitha Kandhara Namah – She who shines with the sacred thread in her neck tied by Lord Kameshwara.
32 Om Rathna Graiveya Chinthaka Lola Muktha Phalanvitha Namah – She who wears necklace with moving pearls and dollar inlaid with gems.
36 Om Sthana Bhara Dalan Madhya Patta Bhandha Valithraya Namah – She who has three stripes in her belly which looks like having been created to protect her tiny waist from her heavy chest.
46 Om Sinchana Mani Manjira Manditha Sri Pamambuja Namah – She who has feet wearing musical anklets filled with gem stones.
185 Om Neela Chikura Namah – She who has dark black hair.
243 Om Charu Chandra Kaladhara Namah – She who wears the beautiful crescent.
278 Om Padmasana Namah – She who sits on a lotus.
312 Om Ranath Kinkini Mekhala Namah – She who wears the golden waist band with tinkling bells.
762 Om Thryambhaga Namah – She who has three eyes.
Reference:
Iconography
https://www.shastras.com/devi-stotras/lalita-sahasra-namam/
(Names that I have took reference to are 7, 8, 9, 10, 13, 14, 16, 20, 28, 30, 31, 32, 33, 34, 35, 36, 37, 46, 51, 185, 234, 242, 243, 247, 278, 308, 312, 351, 455, 489, 514, 517, 762, 805, 810, 864)
Design elements:
-Sarasvati. Halebid, Hoysala dynasty, 12th century. Indian Museum, Calcutta
https://commons.wikimedia.org/wiki/File:Calcutta_ei05-60.jpg
-Shaiva Dwarapalaka at the entrance of Aghoreshwara temple in Ikkeri
37/100