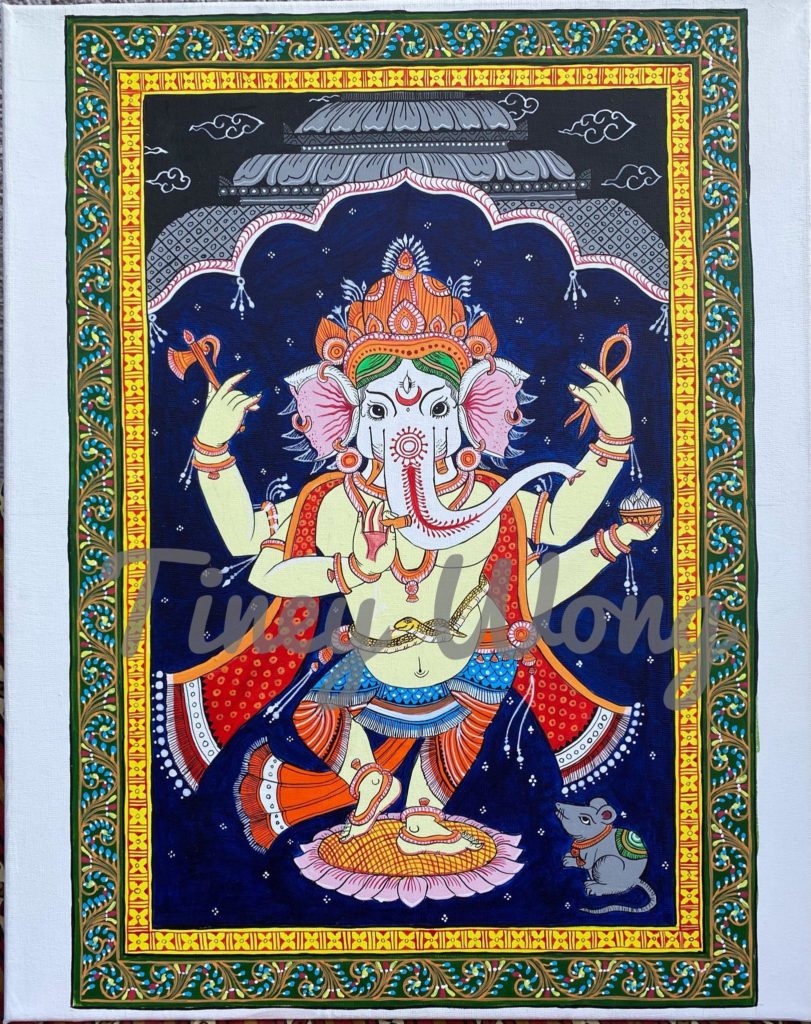 13 X 19 inches, Acrylic on canvas
Nardhana Vinayaka, Odisha Pattachitra master class by Kathith, Mr. Ashish Das, Deepti designs, Aditi Yeva studio.
I supposed this project to be a restart of my art journey, has turned into an emotional and spiritual experience for me.
I missed the live workshop last year, but am super lucky to catch the second chance for recordings. When I was watching those recordings, I was shocked by the amount of work and techniques are needed for this workshop. I was scared that my end result will be miserable.
But when I get down to the work, step by step, following instructions, things were turning out ok. The whole painting(from canvas preparation to the end) took me 10 days, more than 40hrs of work. Of course, as a master artist would need just one day.
There are so much self growth in this painting. I know line work, color mixing, acrylic paint, brush stroke a lot better. I learned and accepted it is ok to be not "perfect" enough. If you look at a further distance, things will look better. I have to slow down, because slow and steady wins the race. It is ok to make mistakes, I can learn through them.
What is more special to me is that I tried to incorporate what I have learned from the past into this painting. In the original workshop, the deity form is simplified with two arms, so everyone can manage it better. I had more time with recordings, so I could add back two more arms for the deity(also the symbolism of them are important to me).
I am very grateful for patience teaching of Pattachitra artist Mr. Ashish Das. Also, the professional organisation and moderation of Deepti designs, Supraja from Aditi Yeva studio and Kathith.
P.S. I am very happy with the end result!
2/100