Ka Pilina
Composed By: Frank Kawaikapuokalani Hewett
Performed By: Sean Na'auau
Ka Pilina

– By Frank K. Hewitt

`Ö`io`io ka `elepaio

I ke kulu o ke aumoe

Kani a`e ka `apapane

Me kona leo nahenahe

Lohe`ia ke ao

He mele ko ka `i`iwi pölena

Eia a`e ka wahine

Halihali `ia mai e nä manu

`O ka pilina ä käua

`O ka pilina ä käua

The elepaio chirps

As midnight approaches

The `apapane sings

With his beautiful voice

Heard at dawn,

A song of the `i`iwi pölena

Now approaches the woman,

Attended by the birds

Our love and intimacy

Our love and intimacy

Source: J. Overton Collection – Recorded by SeanNaauaohttp://www.huapala.org/Ka/Ka_Pilina.html
"Ka Pilina" is the first mele (song) I learnt from my kumu(teacher). Until now, this mele is still my favorite one.
"Ka" – can be translated as "the", "pilina" – can be translated as relationship, connection.
So, we know this mele is about relationship.
Let's look inside the lyric to know more! 🙂
---
The story
This mele is based on the story of La'ieikawai. Some said she is the goddess of twilight and rainbow.
The legend of La'ieikawai (Source: http://www.amazon.com/Laieikawai-The-Houlu-Hou-Project/dp/0976089262 )
Two must-see painting of La'ieikawai:
http://www.dvarez.com/gallery/hawaiian_activities/128-laieikawai.html
http://www.dvarez.com/gallery/hawaiian-folklore/72_laieikawai.html
"Laʻieikawai – was a beautiful princess from Laʻie Oahu. Hidden away from her father, who killed all of his newborn daughters because he wanted a son, she was kept in a cave which was only accessible by diving into a pool of water, called Waiapuka. Soon there was word that royalty was near by because of the tell-tale rainbow that graced the sky above her cave dwelling.
Secretly her grandmother, Waka, smuggled her to Paliuli in the Puna district on the Big Island. On their way there, rumors of Laʻieikawaiʻs beauty traveled throughout all the islands. Aiwohikupua, a young handsome chief from Kauaʻi, decided to pursue her. At her home in Paliuli, Laieikawai was attended by supernatural birds such as the 'i'iwi polena. It is said she could float on the wings of the birds. While other royalty in Hawai'i had mere feather capes and cloaks, Paliuli had a house made of the sacred feathers. A beautiful rainbow formed over her home in Paliuli. After a series of misfortunes, she becomes known as Kawahineliula ("woman of the twilight")." Source : http://blog.bnb-aloha.com/2013/12/legends-of-hawaii.html
short story 1: http://en.wikipedia.org/wiki/La%CA%BBieikawai
short story 2: http://people.tribe.net/renee/photos/eb609719-689a-42bd-8ce7-8d7fa6127474
Full story: http://www.sacred-texts.com/pac/hm/hm41.htm
---
Place
Paliuli
Home of La'ieikawai, equivalent of the garden of Eden. It is located in the Puna district of Hawai'i.
You can only dive through this pool to get access to the cave La'ieikawai was kept.
---
Birds
There are 3 different birds mentioned in the lyric: `elepaio, `apapane , `i`iwi pölena.
1. `elepaio
Photo taken by Eike Wulfmeyer, Keauhou Bird Conservation Center (KBCC), Volcano HI, circa 03-SEP-2002.

"The ʻelepaio is the first native bird to sing in the morning and the last to stop singing at night; apart from whistled and chattering contact and alarm calls, it is probably best known for its song, from which derives the common name: a pleasant and rather loud warble which sounds like e-le-PAI-o or ele-PAI-o. It nests between January and June." – Source: http://en.wikipedia.org/wiki/%E2%80%98Elepaio
That's why the lyric said 'elepaio chirps as midnight come.
2. `apapane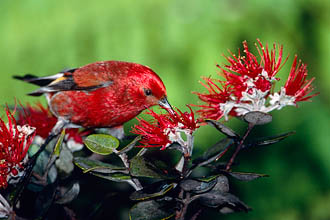 'Apapane (Himatione sanguinea) on 'Ohi'a Pihea Trail, Kaua'i © 1999 Peter LaTourrette

The 'apapane are beautiful singer, they eat honey. May be that's the reason why they sing so loud.
Know more: http://en.wikipedia.org/wiki/%CA%BBApapane
3. `i`iwi pölena
'I'iwi on koli'i, a native lobleia. Photo © Jim Denny
c. 1893_1900 Frederick Frohawk, Native Hawaiian Birds, Vintage painting of Red Hawaiian Honeycreeper or I´iwi Polena Vestiaria coccinea.
"The ʻi'iwi is a highly recognizable symbol of Hawaiʻi. The ʻiʻiwi is the third most common native land bird in the Hawaiian Islands." – Source:http://en.wikipedia.org/wiki/%CA%BBI%CA%BBiwi

---
Keywords
ʻō ʻio ʻio – chirps
kulu – approach
aumoe – midnight
kani – sing
kōna – his
leo – voice
nahe nahe – soft, sweet, melodies
pilina – relationship, connection
lohe – to hear
ao – dawn
he mele – a song
wahine – woman
halihali – to transport
manu – bird
---
Chords
http://www.hoomaumele.com/song.aspx?sid=6816&sn=Ka+Pilina&vid=31436